Every dog owner has a tale to tell.  We thought we'd share some of ours with you.  The following tales have been submitted by owners of Carefree kids.  The names have not been changed to protect the innocent!  The brave have submitted photos!

(photos below the pet tale)
Amy, Cari had her first play date. See her report card! The staff could not say enough about her temperament. All credit to you

!

Submitted by owner Myrna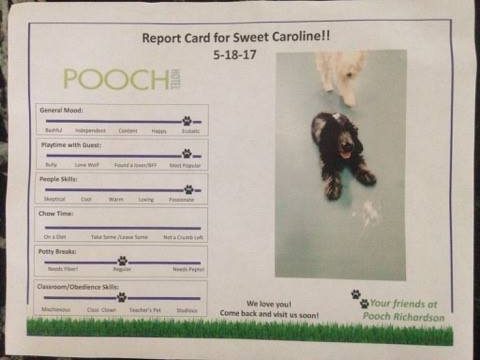 A Great Way to Exercise Your Dog in Winter     
"Kyle"  Am./Can./UKC Grand CH Carefree's Larger than Life, CD WDX RN JH CGC – playing tetherball in Dawn's backyard!!  He plays the game by himself and is very persistent to play each game till he wins!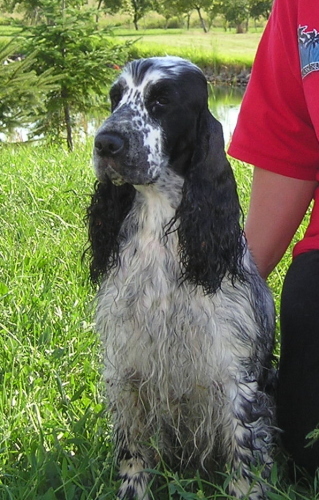 Carefree's Mystic Summer Sky By Nature "Summer" (Ch. Itoba Mother Nature's Son, BN CGC ex Kennedy)
The picture that I took of "Summer" the day we brought her home is in the Post Cresent!  It is in The Fall Home and Garden Special section.  Her picture was selected by the Yard MD to be included in this section of the paper.  How are we going to live with such a diva:)  submitted by owner Teresa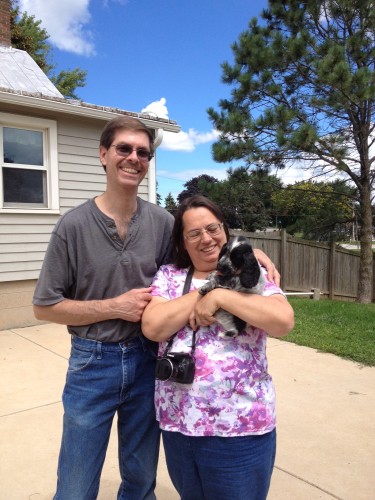 Carefree's Sunkissed by Nature "Orange Julius"
(Ch. Itoba Mother Nature's Son, BN CGC ex Kennedy)
I need to say, "thank you again", for OJ.   He has been a great puppy, and has fit in with the family very well. His ability to walk obediently, temperament and quick learning of commands is amazing.  If there any thing I can do to

show my thankfulness, please let me know.  Submitted by:  Jeff

Schuttey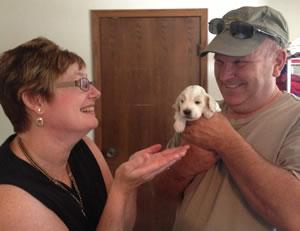 Carefree's Legend of Lambeau "Wyatt" (Ch. Karola's Xerxes ex Emmy)
Just wanted to give thanks for you and my Wyatt!!!  Lucky to meet Dawn Schuster last weekend, and, again I wish I lived down the street from all of you!!!  Wyatt is BLOSSOMING and coming into his own!!!  He flushed his first covey of quail and yesterday, had fabulous obedience lesson with enthusiasm, accuracy and attention throughout.  He's timid about water and we started trying to teach him to swim last month.  That's now on hold till it warms up but, if we can get in water, we might think about the hunt test later!!!  He is my best buddy and I LOVE HIM.
THANK YOU–submitted by Susan
–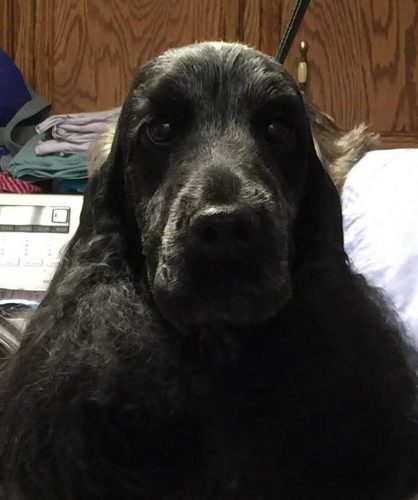 Carefree's National Anthem "Mason" (Ch. Sandcastle's Livin' La Vida Loca ex Sydney)
"Mason is now 4.5 years old and, as always, a wonderful dog. We love and enjoy him tremendously.  Our other EC is 14 yrs. old and Mason still respects him as "king" and allows him his space.   (Am not sure other dogs would be so kind. Ha!) We thank you again, for allowing us to have one of your "babies".   He has added so much love & joy to our lives."  Submitted by owners Diana and Jackie.
Carefree's Titletown Spirit "Tyler" (Karola's Xerxes ex Emmy)
pictured with owners Bob & Gretchen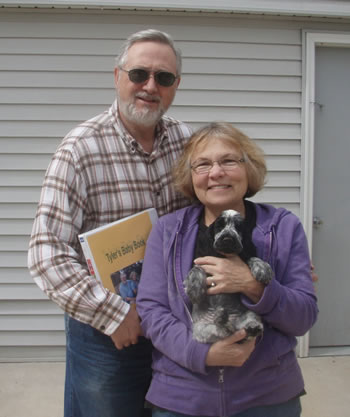 Carefree's One Over Par "Bogey" (Gr. Ch. Whitefield BluVu Quicksilver, ECM ex Emmy)
 "He is the sweetest, smartest dog I've ever had!  And if there is a party  going on, you can be sure he's in the middle of it.  He's always ready to play." Submitted by owner:  Michele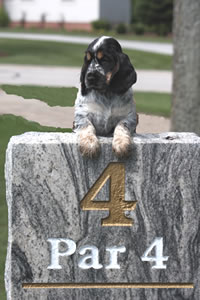 Carefree's Help Me Rhonda "Luna" (Gr. Ch. Whitfield BluVu Quicksilver, ECM ex Emmy)
Wow, what a sweetheart. We have been having a fantastic time.  Day 1:  We discovered the whole yard, house (all three stories and the 28 steps with no problem), garage and one swim in the pool, oops.  Day 2: Discovered the whole farm and met all the animals. Horses said, " hi" and were on their way to pasture.  "Ned", the goat, was very cautious, touched noses and stayed a little distant.   "Maizee", deaf cat, became friends immediately and those chickens were amazing for Luna to watch.  Day 3:  Off to the clinic, a whole lot of loving….staff and clients all came to welcome the new arrival and, of course, Luna won them all over:).  First observation, very curious and absolutely no fear, up down and all around.  Second, crate training is going wonderfully.  In and out no fussing.  Sleeps very well with only one potty break in the night, the first two nights.   Last night, we all slept very peacefully:) . Third, no potty accidents.  Her signs to potty are very obvious, yeah!"  Submitted by owner:  Gail'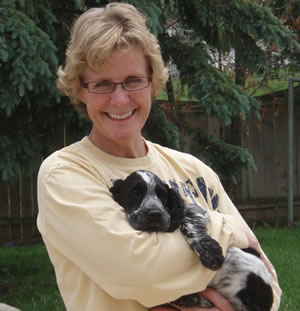 Carefree's Cooper Criss Cross "Cooper" (Gr. Ch. Whitfield BluVu Quicksilver, ECM ex Emmy)
Hi, Amy.  I know we owe you photos.  Cooper is the most  handsome boy and a very fast learner.  We had a dog trainer come in a few times and he was great.  Cooper totally "got it" and also showed his coy, submissive side. All so very interesting.  His neutering was a success and he was great with the collar (for 5 days).  Truly, Stone and I feel that we have had 5 wonderful dogs and that there is  something very special about Cooper…such a happy dog with lots of love and a great temperament.  Let's always keep in touch if you have another one.  Of course, Molly is our baby but, sadly we know she won't be around forever.  Not to say that Cooper hasn't energized her and I think she is going to be around for years to come… we certainly hope so!"  Submitted by owner: Betsey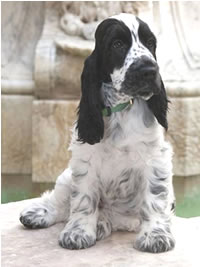 Carefree's Johnny Be Goode "JBG" (Gr. Ch. Whitfield BluVu Quicksilver, ECM ex Emmy)
Johnny Born Good is as wonderful as ever and I love him much, much, too much…if that is possible. We have settled into a weekly routine. Mondays he goes to Clare Bridge, a senior residential center for those with memory issues. Most of the residents are out of it, but Johnny brings SO much pleasure to the few who respond that it is definitely worth doing. He really is very, very good. I sit him in a chair so he is at eye level, and he loves being patted and talked to….even if it is the same thing again and again!  Wednesdays, Johnny meets two of his doggy friends from Therapy Dog classes, Ace and Oliver. We three moms take our kids for a long walk at a park…great for them and therapy for us too.  Fridays are play afternoons at Ruff Housing. Aside from this, Johnny has his regular afternoon walk. Smart boy that he is, he has somehow worked out which day of the week it is, and he is always reminding me it is time to go for each activity.  He is looking amazingly gorgeous and is a real show stopper wherever we go.  I do a weekly bathe and groom so he always looks nice and he enjoys the grooming, much of which is done with him in my lap.  Don't ask how, but we do it…and yes, we do progress to the grooming table eventually!  Much love, Submitted by:  Myrna and JBG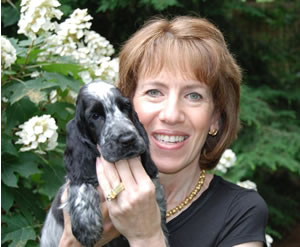 Carefree's Wildwood and Carefree's Twist of Fate "Corky" and "Maddie" (Rowdy ex Tracy) and (Ch. Itoba Dr. Science, ECM ex Mikayla)
"Corky" greets his new friend, "Maddie"
"Best wishes for a great year to both of you from us and the two BEST dogs.  (Did you know that Corky is THE best dog?  Sorry, Patrick.)"  Submitted by owner:  Winnie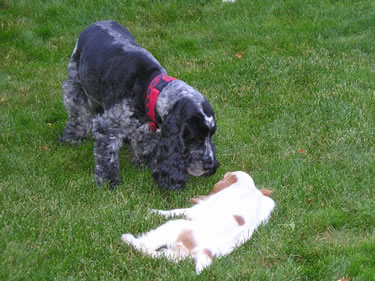 Carefree's Going My Way "Spencer Tracy" (Patrick ex Am./Can. Ch. Itoba Purplehart Hoi Polloi, ECM)  
"He really is a snuggler and has the greatest disposition.  And SMART…….he already knows his name and which house is ours when coming back from walks.  He also knows where I keep his food (the little chow hound) and boy, does he like to let everyone know when he's drinking water.  Amy, he hasn't exhibited any problem with his eating & I mixed your food with the Innova with his first feeding so it wouldn't upset his tummy.  He let's us know when he needs to go out and the little fella hasn't had any accidents yet.  Meg took some pictures of him yesterday, and I'll have her download and send them later today.  We had two days of beautiful weather in the 50s, but it's snowing here again today.  Spencer loves bouncing in it when we go for our walks.   I really believe that he's part kangaroo and then, after he's done, I scoop him up & put him inside my coat to keep him warm.  It's supposed to be back up in the 40s by Sunday."  Submitted by owner Susan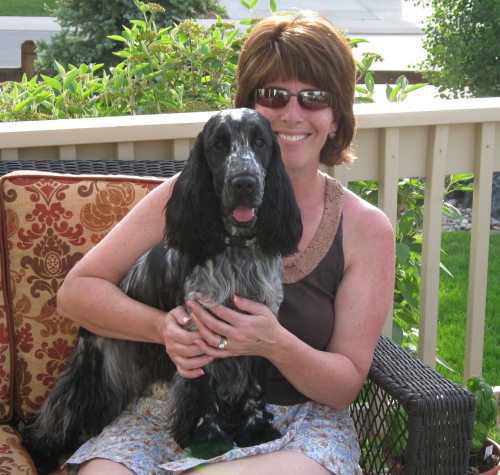 Carefree Itoba The Entertainer "Trick"
Patrick ex Am./Can. Ch. Itoba Purplehart Hoi Polloi, ECM) "Trick is 9 wks. old and is very smart.  He has started his foundation puppy training, has begun to learn what the clicker is and has a few tricks under his belt already (as you might expect from a dog by his name.)  I'm really pleased with how fast he learns and how responsive he is to training.  We start puppy agility in another week!  Thank you, Amy, for this wonderful, fun and special pup!"  Submitted by owner: Anne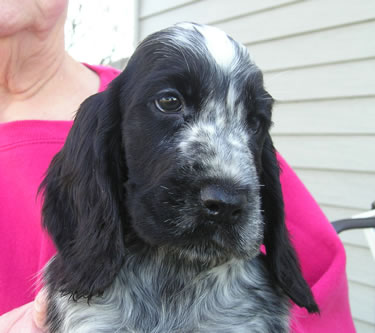 Carefree's Irish Eyes R Smilin' "Kelsey"
"Kelsey" dressed up as a clown for Halloween at 13 yrs. of age!!!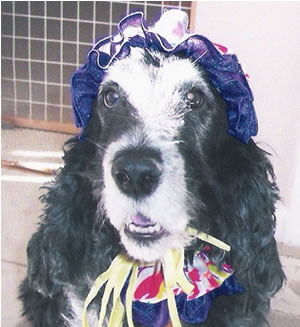 Carefree's Blazin' Wildfire "Blazer" (Rowdy ex Tracy)
"Blazer" is still kicking!  He is 11 yrs. old now and still an awesome dog.  Such a personality!!!!  I lot his pal (my kitty) in September 2005, but Blazer is adjusting well.  I just give him more lovin'!"  Submitted by owner – Betty.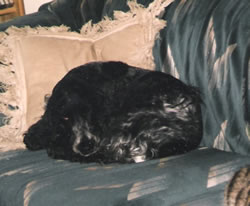 Carefree's Keep On Truckin' "Kallie" (Ch. Itoba Alvin Ailey ex Mac)
"I have said it before…"I adore this little girl"…thank you, thank you for letting us have her in our lives.  She is very special to all of us and has added so much.  She's one of many dogs in our neighborhood, but really stands out with her personality.  We love how she cocks her head to the side when you talk to her and how she sits next to me on the sofa and lays her head on my lap.  Aren't dogs just the best?"  Submitted by owner – Kathy.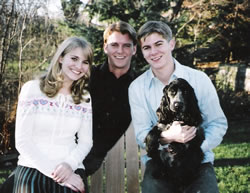 Carefree's Way of the Master, CD "Chip" (Ch. Itoba Alvin Ailey ex Kailey)
 "Chip is a delightful dog and has been fairly easy to raise even with the help of the kids.  His "sock snatching" habit is one I wonder we'll ever break. He is naturally so eager to please and doing well as a pheasant hunting dog, thus far. I am looking forward to doing more obedience with him and Jamie may do some 4-H with him down the road. Prior to adding him to the family, we adopted two give away hamsters.  So with the cat, the rabbit and fish, we have quite the menagerie. It's wonderful to have a dog again, especially Chip (AKA Chipmeister or Chippity-doo-dah).  We are thankful we found an ECS like him and to have him be 8 weeks old the day after school let out for the summer, was just ideal. He's brought a lot of joy into our home." –  Submitted by owner – Faye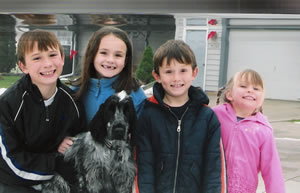 Carefree's Classic Chassis
"Bentley" (Ch. Itoba Alvin Ailey ex Mac)
"Just a few lines to say "hi" and to let you know how Bentley is doing.  I do believe he is is best dog ever any one could have.  He is starting puppy agility class in a week and basic obedience toward the end of October.  He is soooooo smart.  He is finding birds and retrieving (almost to hand) when I take him out hunting and he loves the water.  He makes me very proud.  I am learning how to properly groom him for showing and his first show will be the weekend of November 12-13, in Pueblo.  We go to classes for that on Wednesdays.I have really enjoyed the pictures you send.  I will more than likely get one of him at the show in November, even if we do not place just to commemorate our first show and I will send one to you so you can see what a handsome boy he is."  Submitted by owner – Stephanie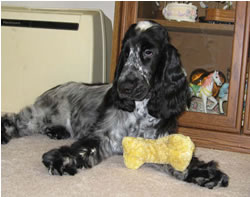 Carefree's License to Drive "Kia"
"Jim and John Henry took a short pheasant hunting trip up to Jim's family farm in Creighton, Nebraska. Over the girls' protest, they took Kia along to see how she liked things — and she loved it!  She was in the zone — trailing along with John Henry begging to be let off the leash every time a gun went off!  John Henry had her on a long leash and as he is too young to actually shoot or hunt he and Kia followed along behind.  She was even able to help track down a bird and retrieved it.  They had a couple of quail she played around with too.  Jim says Kia loves sleeping in cheap hotels!" Submitted by owner, Mary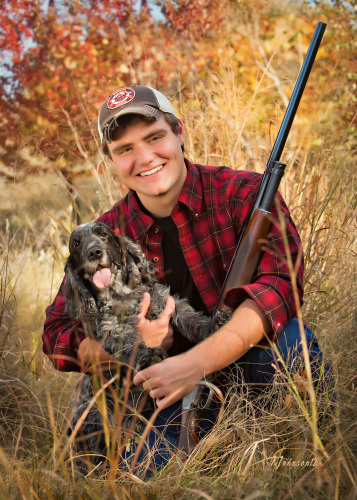 Carefree's Easy Come Easy Go "Carley Jo" (Ch. Itoba Purplehart Easy Street ex Mac)"One Year With the Perfect Dog…… Carley Jo has been with us for about a year now.  How our lives have changed!  She's added humor and fun to our daily activities, along with making us more physically active!  I can't tell you how many interesting people I've met because of her, and they all comment on what a pretty, even tempered dog she is!  Naturally, we agree! One of my big concerns in getting her was that she get along with her ECS cousins, Spencer and Tucker. You found in her the perfect match for our family. As you know, the boys are very different from each other and Carley Jo plays with them equally well. She romps and chases with Spencer and just loves her ball games with Tucker!  We now have a weekly play day at our house and she visits their house practically every day!  It is difficult for us to imagine our lives without her. Thank you for all your help, advice, guidance, and support in making our first year as parents so much fun!"   Submitted by owners:   Don and Kristine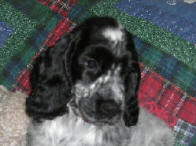 Carefree's Belle Star "Belle" (Tucker ex Carefree's Dr. Doolittle) Belle is such a joy to all of us—we LOVE having her!! A great addition to our family!!  She definitely rules the roost and is spoiled rotten.  Love the picture of Belle with Nick. They are buddies however, she seems to follow me everywhere.  I call her my "shadow."    Submitted by owner – Molly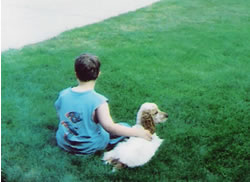 Ch. Carefree's Me 'N My Shadow, CD WDX JH RN CGC
"Logan"
Am./Can./UKC Grand Ch. Carefree's Larger Than Life,CD RN WDX JH CGC
"Kyle"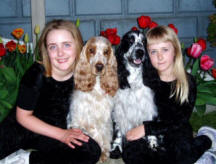 "

Logan and Kyle are Carefree ECS that share their home with two young girls, 6 yr old, Grace and 8 yr. old, Claire.  Grace, Claire, Logan and Kyle all share a special bond between each other.  The bond being so close, that one day the girls decided that they were going to get married.  Claire decided that she would marry Logan and Grace decided that she would marry Kyle. The girls were very happy with their new found "husbands" and enjoyed the new role-playing as married couples.  They dressed themselves and the dogs, in fancy clothes for the occasion.  Claire declared she was going to "two-time" and also marry Kyle.  Grace, upset that her sister was going to take away her newly wedded "husband", placed her hands on her hips and said, 'Alright, this is enough of the marrying-the-dogs stuff, Claire'!!!  Their roles quickly changed back to being two little girls and their dogs!"

Carefree's Energizer
"Griffin"
Carefree's Wild West
"Gunner"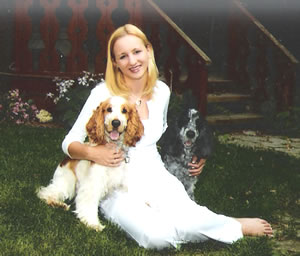 Liz is pictured in her high school graduation photo with beloved companions, "Griffin" and "Gunner".

"Ryan"
(BIS/BISS Ch. Daisymead's Playboy, ECM and

Kailey

)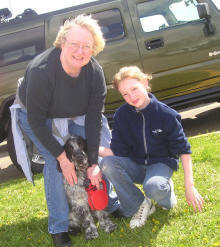 Ryan is
pictured here with family members Alyssa and Beth.

Carefree's Dr. Seuss, CGC
"Lexie"    
(Ch. Itoba Dr. Science, ECM and

Mac

)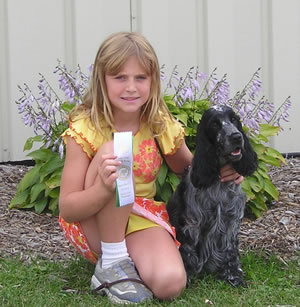 "Lexie is a very nice dog and a quick learner.   She is good at rolling over and at singing when asked to – (bark bark).  She likes to watch Animal Planet and to play ball.  At night,  Lexie sleeps with us kids and goes under the covers.  She is getting very good at flipping the covers up to go underneath to keep warm." – Submitted by Kayla and Tyler (Lexie's "kids")
Carefree's Cassiopeia
"Cassie"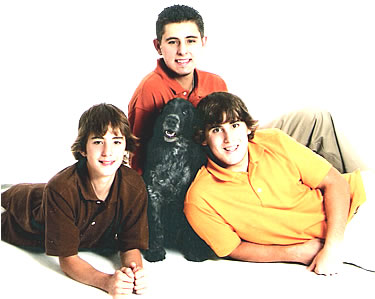 "

Cassie" is doing great and we enjoy her fun personality.  She definitely has enhanced our family!" Submitted by owners – Mark and Jamie
Carefree's Alkaline
(

Tommy

ex

Holly

) 

"Acoma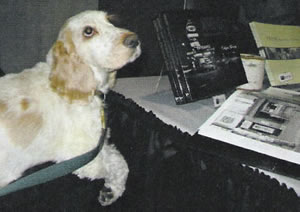 "
Acoma has a new job, as the picture shows. We take him to some of the book selling events to attract people to the sales table. He does a good job and he is so well behaved at the events!  He eventually does get tired and needs to take a nap, but he loves the attention and new people. Our friend who started working Acoma, teaching him how to run in Canine Agility events, wants to try him in Rally, but we haven't been able to get together lately for her to work with him. We think he'd be really good as he so wants to please. Our only concern would be that in the show ring he may be so focused on other people (hoping to get some love) that he would be distracted. Only one way to find out, though."
Submitted by owner – Marilyn
 CH Cascade Carefree Citation,
AX AXJ MGC MKC MAC WDX JH
"Boxcar Billy"

(Ch. McMurphy Fieldstone Foster and Kendyl)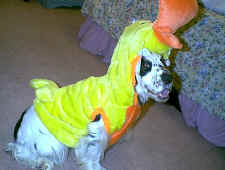 "Since Billy has been training in the field, his trainer told him to act like a duck and think like one, too.  However, Billy wanted to dress like one as well.  I think the Cocker went too far this time.
I went to the pet store yesterday, to buy dog food.  Not a big deal, usually takes about 15 minutes because the store is only about 5 minutes from the house.  I decided to take Billy (the celebrity English Cocker) with me.  This caused my short trip to last about an hour and a half!!   The moment I took him out of the van, Billy was working the crowd.  He barked at everyone he could see to draw attention to himself as we walked to the store.  A couple people stopped us and asked to pet him.  Of course he was wagging his stump and entire rear end.  He sat and looked cute.
A couple minutes, later I got into the store and put Billy into the kiddy seat in the cart.  Little did I realize that this seat provided him with the perfect vantage point from which to work the people in the store.  He sat in the seat and looked cute.  Apparently, Billy has been to the dog store a couple times before yesterday.  Most of the staff knew him by NAME.  No doubt Tim and Billy have worked the crowd before, as a couple salespeople mentioned that Billy usually comes in with a tall guy.
In the checkout line, Billy met more people.  I know he would sign autographs if he could.  Finally I checked out.  Billy managed to be cute and con ME into buying him a squeaky toy.  It was 75% off so I thought, " what the heck?"  The clerk said, " Billy looks like he wants his toy now.", and opened the package for him.  Billy, of course, was being cute and acted excited when he took the toy from the clerk.  "We are leaving the store!!!!"  Out in the parking lot, more people saw Billy.  They petted him and asked lots of questions.  I burned another 15 minutes telling them "his life history".  Of course, Billy was being cute.  Before anyone else saw us, I tossed the food in the car, returned the basket, and put Billy in his cage.  An hour and a half later, we drove home.  MORAL OF THE STORY….if you are going to the pet store and you're in a hurry, don't take the celebrity…..  leave Billy at home."
Submitted by Julie (Billy's other owner).
Carefree's Sunny Delight
"Ernie"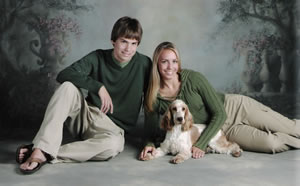 "I wanted to send you a picture of Alyssa, Ben and "the king", OOPS, I mean Ernie. I just love this picture. He is sitting so stately. People say "How did you get him to sit up so straight up?" We just say that is how he always sits. He loved having his picture taken. I can't believe it's been almost a year since we got Ernie. He is such a big part of our family. He is just a joy.. We can't thank you enough. Our choice was perfect!!!!"  Submitted by owner – Judy.
Carefree's Good Day Sunshine
"Oliver Marshall Fields"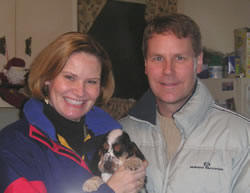 "

Oliver earned his AKC name from his fondness of snoozing in sunbeams." – Owners Barb and Pat




"I need to laugh, and when the sun is out
I've got something I can laugh about
I feel good, in a special way
I'm in love and it's a sunny day."
"Good day sunshine"
"Good day sunshine"
"Good day sunshine"
Runnin' Wild 'N Carefree
"Nike"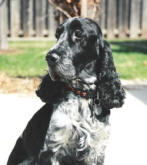 "Nike has always been an absolute chow hound.  He was repeatedly eating loaves of bread however, there were never any signs of him getting into the drawers.  The only telltale signs were empty bread wrappers on the floor.  Puzzled as to how Nike could be accomplishing this, his owners decided to spy one day.  They hid on the staircase and let Nike think they had left.  Soon, Nike made his way into the kitchen and pulled open the bread drawer with his paws and grabbed the loaf of bread.  Caught red handed, his owners yelled at the top of their lungs,  "NIKE!"  He smugly dropped the loaf of bread back in the drawer,  shut it with his nose and walked away as if to say, "What?…. I didn't do anything!"
Submitted by Amy Kluth for owners.

Carefree's Sweet Mercedes
"Sadie"
(Ch. Itoba Alvin Ailey and

Mac

)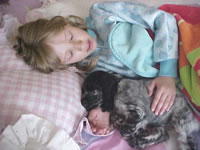 "
You do such an incredible job with those puppies.  We still can't get over how lovable Sadie is.  She crawls underneath the covers and snuggles tightly against us to sleep.  She just can't get close enough.  Needless to say, Bob is in his glory.  He can't say enough about her to whomever will listen.  Amy, she's beyond words, and I'm not just saying that because she's our precious baby.  She is just the best pup we have ever owned.   We can't thank you enough."   Submitted by proud owner, Kathi.
Carefree's Canadian Sunset
"Skylar"

"Finally!!!  After many months of e-mails and phone calls, 22 hours in airports and airplanes and 2200 miles away, we met our new Carefree pup – Skylar.   We chose Amy as our breeder because of her concern for the breed and her genuine interest in us as a future home for this puppy.   Skylar is a beautiful girl!  She is beyond our expectations.   Sky entered our home at 1:00 a.m.,  still raring to go and with as beautiful a little face as we have ever seen.  We have lots of plans for our baby and hopefully, she will do Carefree proud.  Most of all, she has filled an empty spot in our home and our hearts.  We love her not only for who she is, but for what she has done for us."  Owners – The Jonnysons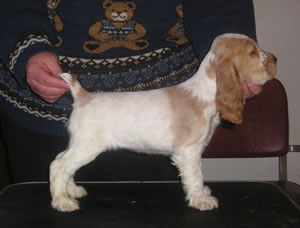 Carefree's Abrakadabra
"Abbie"

 "Amy, I know that you have placed several puppies in the past, but you saved the best one for us!!  We love our little Abbie more and more each day.  She's so smart!  She knows when Daddy leaves the room and jumps on the new bar to sleep.  She managed to get up on the new kitchen counter top, jumped over the sink and ate the topping off the pizza that was cooling.  On the way back, she ate a stick of butter, jumped off the counter, opened the patio door and went for a swim in the pool!!   She knows how to go in and out of the pool by using the ladder. After that, it was time to go for a snooze on the sofa!!" 
 Submitted by owner: Jane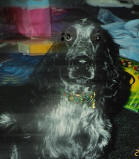 Carefree's Lights Up the Sky
"Violet"


V=Versatile and Vocal – I = Intelligent Imp – O = Outgoing, Orange Roan – L = Loving, Lazy, Loyal and Laid Back – E = Endearing and Enjoyable – T= Trusting and Tranquil  "It's amazing how a good dog can change your life. I cannot imagine my life without Violet in it. She is my constant companion. What I love so much about her is that she is so unobtrusive. She will be nearly asleep in the plants while I garden, curled up in her cat bed while I work on the computer, snoozing in my lap while I read in my rocking chair and snuggling under the covers at night (even though I lose 1/3 the bed and 1/2 of my pillow!). Yet, she is not a one person dog. She loves all of my family and friends!  Thank you Amy for letting me be loved and owned by Violet! "  Submitted by owner: Kim