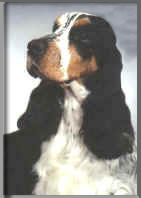 Welcome to Carefree English Cocker Spaniels where we strive for healthy, happy, "carefree" puppies. The puppies are raised in a home environment so that we can expose them to a variety of situations which include many other people and dogs. By doing so, it ensures that they are well socialized. As with humans, research has shown that good socialization in the early weeks of a puppy's life is a crucial part in the development of a sound dog. Due to this being of great importance, we limit the number of litters we raise.
We keep several factors in mind when selecting the sire and dam of our litters. Careful consideration is given to health, conformation, personality and overall diversity in physical abilities. Dogs, as well as people, are happier when they have job to do and we encourage our owners to get involved with their puppy by choosing an activity they both enjoy. Our puppies have proven their versatility, showing success in a variety of venues.
Great care is taken in matching each Carefree puppy with a family unit in regard to personality and life style. A nurturing home environment, where the puppy will be received as an integral part of the family, is essential! We are always available to answer questions from new puppy owners. Much to our delight, many of our families choose to remain in contact with us to share the joys and accomplishments of their "best puppy in the entire world".
Carefree English Cockers have had great success in conformation, obedience, agility, field, junior showmanship and therapy dog work. It remains our goal to strive for a true "versatile English Cocker Spaniel".
Sincerely,
Amy Kluth
"Dogs are like potato chips. You can't have just one." – Amy